Powder bed fusion specialist Farsoon has announced its new high temperature 252Pseries of polymer SLS 3D printers. The set comprises two variants are the ST252P (higher power) and the HT252P (lower power). And it features the company's proprietary Flight technology. Besides, Farsoon will also be releasing two new plastic powder materials to complement the 252P. And their intention is enhancing part features and improving cost-performance ratios.
Dr. Xu Xiaoshu, Chairman of Farsoon Technologies, states: "With a background of over 25 years in developing additive systems and material powder, Farsoon is one of the few companies in the market that can harness integrated plastic laser sintering solutions."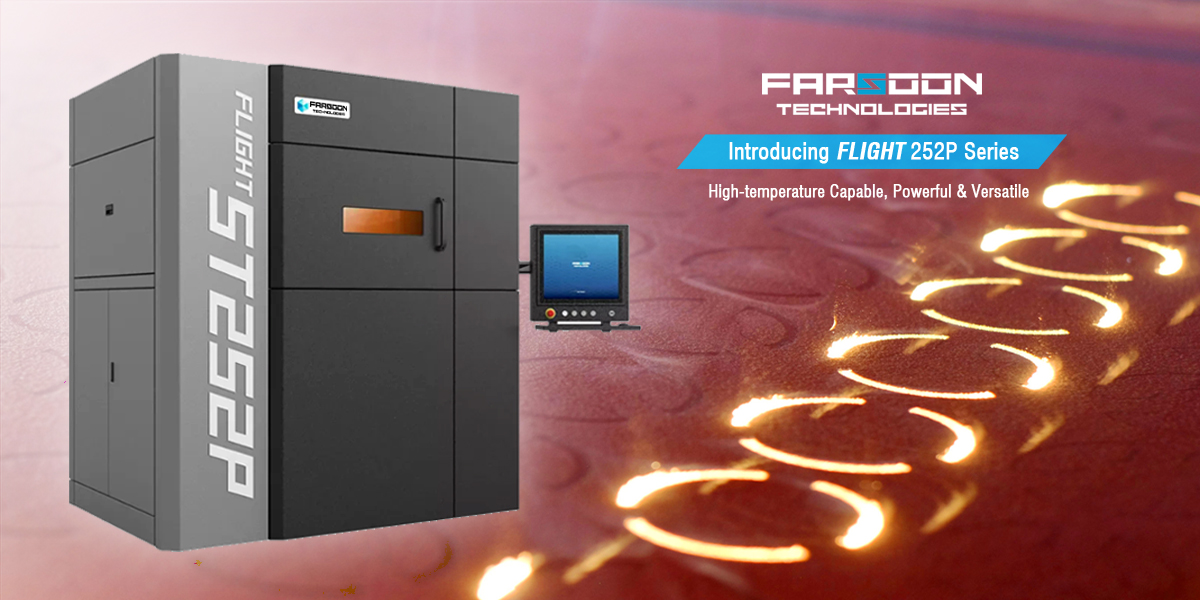 Flight technology
Flight technology initially burst onto the scene in 2019 when Farsoon launched the 403P system. By the way, the 403P system is a medium format polymer SLS machine designed for heavy-duty professional applications. However a year on, it's back in the 252P with some new developments.
Flight-equipped machines throw out the standard CO2 lasers found in most LB-PBF systems and replace them with Farsoon's own fiber lasers. According to the Chinese manufacturer, they are capable of delivering smaller laser spot sizes. And they tend to have higher wattage behind them, along with a greater degree of energy distribution.
As a result, print times are shorter and parts emerge with finer details. The architecture of the fiber lasers also happens to be more robust and stable in nature. It means Flight systems have improved laser longevity – a key factor in cutting operational costs.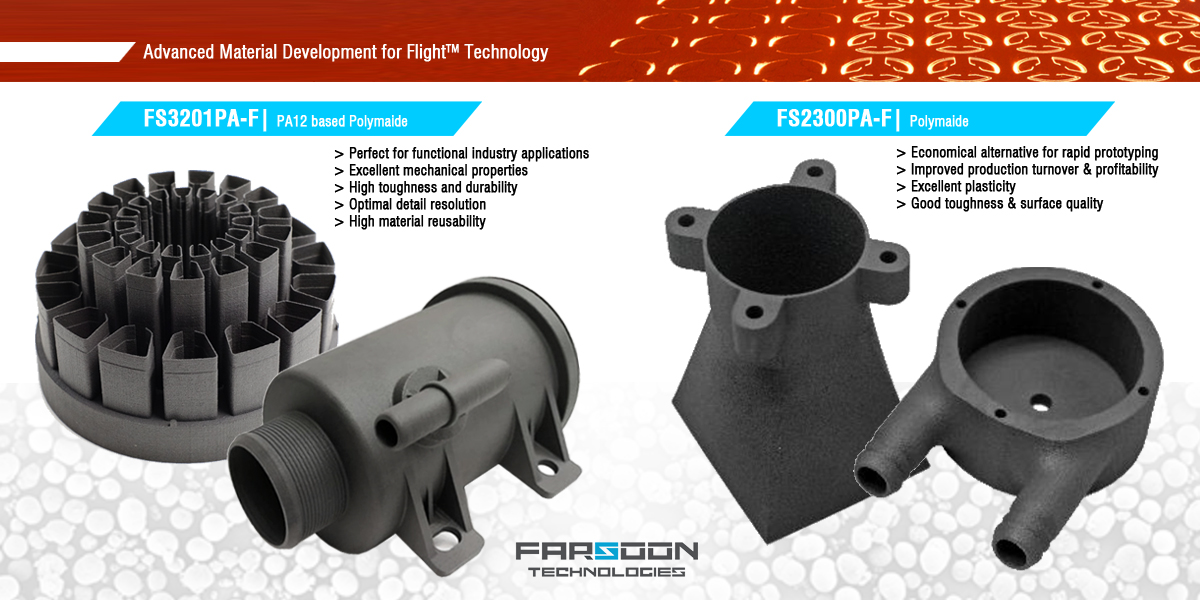 The 252P 3D printers and its new materials
Both 252P variants feature a build volume of 250 x 250 x 320mm and a maximum scan speed of 10m/s. The HT is kitted out with a 60W laser and a maximum chamber temperature of 220°C while the ST sports a 100W laser and 280°C chamber temperature.
The machines both have a new set of enhanced thermal controls, temperature shielded components, and refined process parameters to allow users to work with high performance polymers. The compact body size makes the 252P perfect for the shop floor as well as for a research environment.
Farsoon is known for its 'open materials' philosophy. It means its machines are compatible with a vast range of powder types, including third party ones. Adding to the extensive list, the company is releasing two new materials optimized for use with its Flight technology.
The new PA12-based FS3201PA-F material has excellent mechanical properties, size accuracy, and high toughness. This makes it great for functional prototyping and certain end-use parts in automotive and electronics.
The second material, FS2300PA-F, is tough, and has excellent surface quality and plasticity. It's an economical material ideal for rapid prototyping with a high production turnover.
Farsoon is one of the larger companies in the industrial AM marketspace, with a hand dipped into a number of sectors. Just last month, it provided aerospace specialist Falcontech with 50 of its metal 3D printers for use in a "super AM factory". And the systems will be used for the series production of industrial parts on a grand scale.
Elsewhere, Farsoon also helped Peak Sport Products Co. launch its latest 3D printed shoe collection. By leveraging polymer SLS 3D printing technology, the duo was able to design and fabricate a carefully engineered performance midsole, featuring improved cushioning and a lighter weight.